Nurse Call and Area of Rescue Systems
Nurse call systems encompass a wide range of systems and products. They begin with "Emergency Call Systems" which is an enhanced annunciation system whereby an emergency condition is annunciated at the location of the incident and a central monitoring point; often a nurses or attendants station. Nurse call systems are very similar to emergency call systems but with more features: nurse stations, administrator stations, substations, audio/visual applications. "UL" listed nurse call systems are nurse call systems that have met and passed the vigorous testing requirements of Underwriters Laboratory (UL).
Area of Rescue systems are systems designed to meet the ADA requirements now in effect requiring a rescue system in all newly constructed multi-story commercial buildings and public accommodations which provide a means to request evacuation assistance in emergency situations. The system provides voice and signal communication between the master station and the area of refuge call stations. Classic Systems Inc offers a variety of systems that meet this need.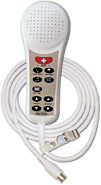 Emergency Call Systems
Nurse Call Systems – visual only, audio/visual, UL listed
ADA Area of Rescue Systems